Coming Soon:
St. Elizabeth Place
The historic St. Elizabeth Hospital is located on the Lyons Avenue Corridor in Houston's 5th Ward community. The original building was constructed in 1947 by the Archdiocese of Galveston to serve African Americans in Harris County. The hospital originally accommodated only 60 beds; however, additional floors and wings were added during the 1950s and 1960s to meet the greater need. An additional non-historic structure to the south of the building was added in the late 1980s.
To help ensure the longevity of the historic structure, Fifth Ward CRC acquired the building in 2016 and in 2018 worked with historic consultants, the City of Houston, the State Historic Preservation Officer, and National Park Service to designate the building a historic landmark and include it in the National Register of Historic Places. As a leading advocate for comprehensive economic and community development in the 5th Ward, Fifth Ward CRC recognized this as an opportunity to safeguard and maintain one of the community's historical asset critical in the continued revitalization of the neighborhood. This is one of many efforts to re-establish the Lyons Avenue Corridor as a vibrant district combining business, retail, residences, arts, and culture in a collaborative environment.
The rebirth of St. Elizabeth Place will have significant impact on preserving the identity and cultural heritage of the community, as well as catalyzing economic development along Lyons Avenue. Through the renovation of the historic hospital and convent, a total of 85 residential homes, ranging from studios to two-bedroom apartments, will be available at both affordable and market rents. At least 51% of the total units will be affordable and help address the housing shortage in the community. The property will also include a community room, pool, outdoor gardens, recreation space, and an art installation that aligns with the Cultural Arts District and honors the building's history.
Construction is expected to be completed in winter 2023. Reach out to Mayra Bontemps at [email protected] for more information.
Homes for Sale
Purchasing a home is one of the most important decisions you will make. With over 30 years of experience building and renovating homes throughout Houston, Fifth Ward CRC can help you make the right choice for your family.
Let us help you find a home that fits your family, your budget and your aspirations.
Contact Mylles Hallado at [email protected], or call (713) 674-0175 ext. 106 for more information.
Rental Opportunities
Fifth Ward CRC makes finding affordable homes and apartments to rent easier by offering one, two, three, and four-bedroom options throughout the Greater Fifth Ward area and surrounding communities.
For more information concerning rental opportunites, please contact Mylles Hallado at [email protected], or call (713) 674-0175 ext. 106 for more information.
Land Development
Creating a community of choice includes larger tracts of land that can increase our impact.
Commercial Leasing
Growing a business often means finding the right location. If you are looking to lease in 5th Ward for your new or existing business, let us help you find the right place.
Coming Soon:
Fifth Ward Technology Center (Chew Street)
*COMING SOON*
The Fifth Ward Technology Center reflects the complete rehabilitation of 2510 Chew Street, a 16,000 square foot former bible college built in 1980, to develop shared work space for entrepreneurs and small-businesses located in Houston's historic 5th Ward. The collaborative space will provide affordable lease options for business owners to increase productivity, creativity and opportunities to network. Collaborating with people and businesses with different expertise in a supportive environment will help build the capacity of businesses in 5th Ward and greater Houston. Leasing will include:
Flexible lease options ranging from day passes to individual office suites
Front desk receptionist to welcome guests and support building operations
Access to printing, scanning, and an office mailbox
State of the art meeting and conference space
Workshops focused on business and economic development opportunities
Construction is expected to be completed in summer 2023. Reach out to Mylles Hallado at [email protected] for more information.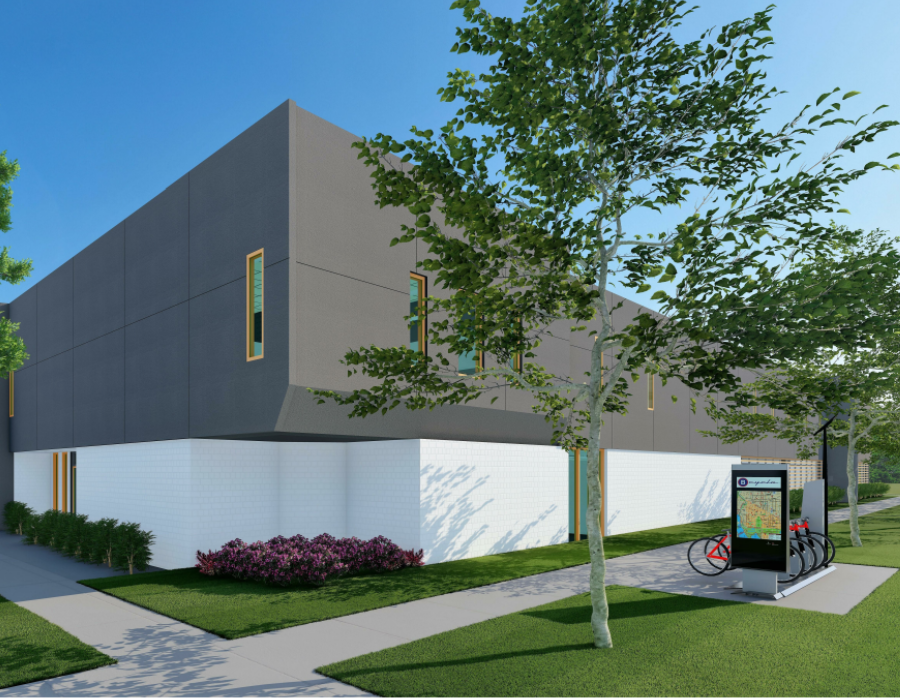 "Affordable housing brings stability, economic diversity and improves the physical quality of the neighborhood."
- John Woods